Thanks to Fillyjonk for finding this one.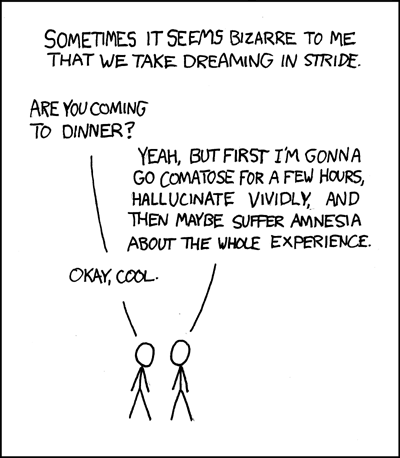 Dreams and dreaming is a fascinating topic to me but to most other people, apparently, not so much, judging from the non-reactions I get when I try to start a discussion about it. I think there are probably two reasons for this: One is that most people don't remember their dreams and the other is that they might be worried about what their dreams might reveal about them. All my dreams reveal about me is what I've already openly admitted – that I read and watch a lot of science fiction.
A lot of people believe in dream symbolism and interpretation. I think all that's just a bunch of hooey, about as scientific as astrology and voodoo. What I think happens is that while you sleep your neurons fire randomly, stimulating memories, thoughts, imagination and feelings and mixing them up together in strange ways to create the internal movies we call dreams. If you dream about a baboon, for example, it probably just means that you've been watching Animal Planet a lot. Considering some of the absolutely ridiculous interpretations on that site I can understand why someone might not want to talk about their dreams to someone who believes in that nonsense.