I saw a version of this quiz several years ago. Found this one at AMCGLTD. My result:
My Political Views
I am a center-left moderate social libertarian
Left: 1.78, Libertarian: 1.12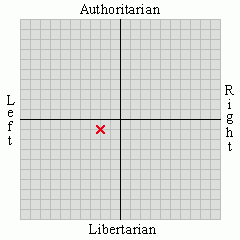 Political Spectrum Quiz
My Foreign Policy Views
Score: 0.44



Political Spectrum Quiz
My Culture War Stance
Score: -1.34



Political Spectrum Quiz
That's probably pretty close to right. I think I might actually be just a bit more libertarian. I didn't like the way some of the questions were worded. My real answer on some of them would be "that depends" but my only choice on those was to pick "neutral". That's probably the reason it put me so near the middle but just because I disapprove of something doesn't necessarily mean I would approve of passing a law against it. On the other hand, I'm not extremely libertarian. Sorry kids, we do need some laws.
The culture war and foreign policy results… I'm not sure. I sort of expected to be a little farther to the right on foreign policy. On many culture war issues I can sympathize with both sides but I'm mostly libertarian on those kinds of issues – live and let live and mind your own business. It says I'm near the middle on both so I guess they're not too far off.